Now type
Cmd+Q
or go to the Bronze menu and choose
Quit Fiberworks
; don't just click the red dot at top left corner of the Bronze window (
FAQ#2
).
Click once on the shuttle icon in the package folder once more to select the Bronze application, and type
Cmd+C
to copy the application.
Open
Finder
and open your
Applications
folder. Type
Cmd+V
to paste the Bronze application in the folder (
FAQ#3
). If you have a previous version in the Applications folder, it will ask if you wish to replace the older copy; this generally the best choice. Note you
must
do this in a Finder window for the Applications folder; it won't work if you open Applications from the Dock.
Now double click the new Shuttle icon in Applications. A second warning may sometimes appear: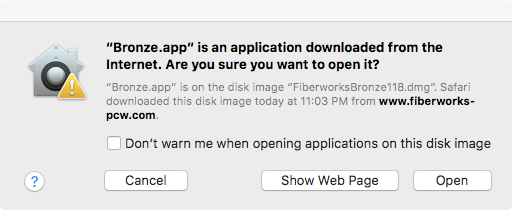 Click the
Open
button once more and Fiberworks or Bronze will open again. Type Cmd+Q to Quit once more. Once you have done this, Gatekeeper remembers that you deliberately chose to open Bronze, and should no longer block future launches.
If this is a first-time installation, complete the process by selecting the
Bronze Manual
and the folder
My Weaving
from the original download package (
FAQ#4
). Type
Cmd+C
to copy these items, then open your Documents folder in Finder. Type
Cmd+V
to paste the two items into Documents. You may skip this step if you are reinstalling or installing an update.
To include Bronze in the
Dock
, click and drag the Bronze Shuttle icon from Applications and drop it in the Dock; the original will remain in the Applications folder.
To place an
icon on your desktop
, it's best if the desktop icon is an
alias
, not the original program. An alias is a link that directs the Mac to the actual program. To create the alias,
Ctrl-click
or Right click on the shuttle icon in the Applications folder, and choose
Make Alias
from the pop-up menu. Then drag the alias from the Applications folder and drop it on the desktop. The icon for the alias is distinguished by having a tiny arrow at the bottom left corner of its icon.
To
validate
a program that you have been using on a trial basis, you need to close down any running copy of the program by typing
Cmd+Q
or by going to the Bronze menu and choosing
Quit Bronze
(
FAQ#2
)
.
When you reopen Bronze from a fresh start, the validation panel will pop up once more, allowing you to read the program ID or enter the validation code.