This dialog appears when you first open a copy of Fiberworks on a computer where it has not been validated.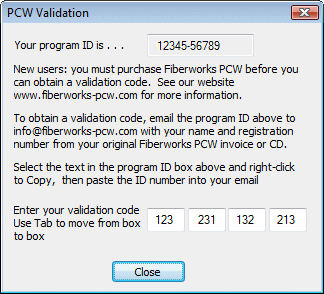 This dialog allows you to register and validate a copy of Fiberworks downloaded from the web or installed from a CD. Until the validation code is entered, the program is restricted to demo mode, and won't save, print or weave.
Terms defined
Program ID is a number generated by your computer to identify the specific copy of Fiberworks running on that computer. It appears at the top of the validation dialog.
Validation code is a number supplied by Fiberworks that unlocks a given program ID. To obtain a validation code, your must provide Fiberworks with your program ID (see step 3), and Fiberworks will translate that into the matching validation code.
If you don't have a validation code, simply click the Close button without entering any numbers, and the program will start in demo mode.
Multiple computers: If you own more than one computer, each will give a different program ID, even if they were installed from the same CD. You must submit each program ID to Fiberworks to obtain the corresponding validation codes. Fiberworks will supply you with a reasonable number of validation codes to allow for multiple computers for your own use and for periodic replacement of computers.